In order to effectively develop physical literacy within a diverse group of learners, using a universal design framework allows you to plan ahead for any modifications and adaptations you may need to make to games and activities. The resources below cover topics such as what is universal design, the principles we use for all games, activities and curriculum development and more information on adapting games and activities for all individuals, including those with a disability.
Click on the button below each resource to download each information sheet. If you would like more information on any of these topics, professional learning sessions on making modifications to activities or a discussion on how you can make your physical education sessions more inclusive, please feel free to contact us.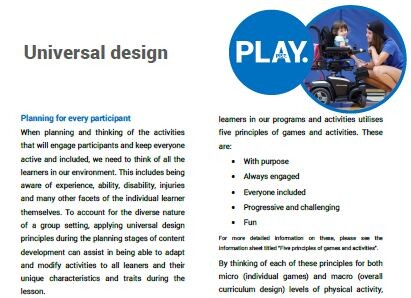 Understanding universal design
When planning and thinking of the activities that will engage participants and keep everyone active and included, we need to think of all the learners in our environment. To account for the diverse nature of a group setting, applying universal design principles during the planning stages of content development can assist in being able to adapt and modify activities to all learners and their unique characteristics and traits during the lesson.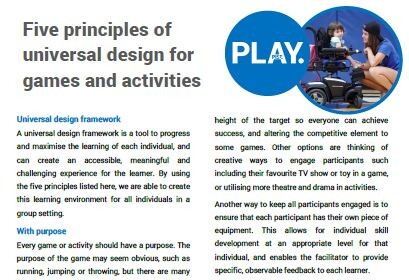 Five principles of games and activities
A universal design framework is a tool to progress and maximise the learning of each individual, and can create an accessible, meaningful and challenging experience for the learner. By using the five principles listed here, we are able to create this learning environment for all individuals in a group setting.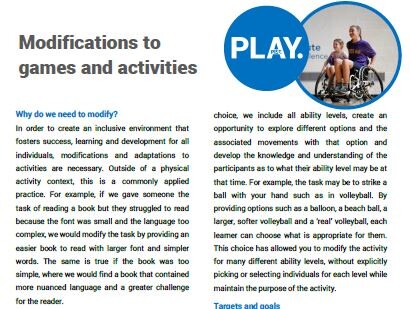 Modifications to games and activities
In order to create an inclusive environment that fosters success, learning and development for all individuals, modifications and adaptations to activities are necessary.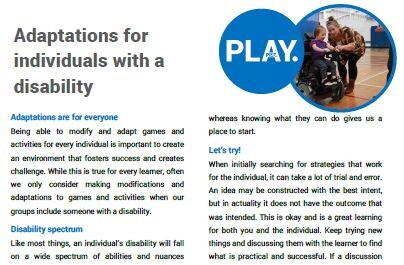 Adaptations for individuals with a disability
Being able to modify and adapt games and activities for every individual is important to create an environment that fosters success and creates challenge. While this is true for every learner, often we only consider making modifications and adaptations to games and activities when our groups include someone with a disability.